GRP PANEL TYPE WATER STORAGE TANKS - DESCRIPTION
It consists mainly of glass fibers and resin and is called "sheet molding compound" - a fiber reinforced material consisting of thermosetting resin glass fibers. It is hydraulically pressed into panels of different sizes and thicknesses, depending on the customer's needs. GRP water tanks, short for Fiberglass Reinforced Plastic water tanks, have a high strength to weight ratio and can be easily formed using moulding processes, and are the market leading standard for industrial and domestic water storage. GRP tanks are ideal for the storage and distribution of potable/clean drinking water and will provide an excellent service to schools, hospitals and residential areas. The tanks are suitable for preventing the growth of algae and bacteria, as well as keeping dirt and insects out. They will therefore ensure a clean and continuous water supply.
LANDYOUNG GRP Panel Type Water Storage Tank system is designed for every need, with unit sizes from 1m³ to 4,000m³ (1,000litres to 4,000,000litres).
The panel tank is a modular system, enabling a tank of any desired size and shape to be constructed. Panel sizes are from 0.5 to 2.0 meters in height and could be combined to create a tank up to 4m high. Formed from hot pressed GRP. All units offer the option of integral insulation.
GRP PANEL TYPE WATER STORAGE TANKS - APPLICATIONS
LANDYOUNG GRP Tanks can be installed at ground level, on top of or inside buildings, or on steel towers. Typical applications include:municipalities, industrial users, agriculture, aquaculture, reservoirs, hotels, hospitals, offices, private homes and other building complexes, as well as high volume long-term storage where regular piped supplies may not be available.
Specific Applications
Residential or commercial potable water storage.
Homes and businesses need to provide potable water for their family members or occupants. grp water tanks can be made in sizes and capacities to fit any of these locations, so it's a smart choice.
Rainwater collection and storage.
For dry areas with low water supply or rainfall the ability to store large amounts of water during the rainy season can be a godsend. It can also be used if you just want to stay off the grid.
Agricultural water tanks.
During the long and unpredictable dry season, many growers are turning to water storage tanks to help offset these droughts.
Storage of hazardous materials or waste.
For businesses and enterprises that generate hazardous waste as a by-product.
Libraries, schools, colleges, universities, hospitals, construction sites and industrial buildings.
Important for these sites that are fire hazards (chemical and fuel plants, paper storage, etc.) or because their primary operations require large amounts of water (construction sites, water parks, swimming pools, golf courses, concrete mixing for car washes), agriculture and ranching, etc.).
GRP PANEL TYPE WATER STORAGE TANKS - ADVANTAGES
LANDYOUNG pure water storage system derive from the design (modular panels designed for optimum functional efficiency), the material & process(hot pressed GRP), and the packaging (kit).
Sectional

The use of sophisticated modern computer aided design techniques determined the optimum shape for the tank panels. Below are some of the many advantages:
High strength and Durability
*No service failures reported in 25+ years.
*Hot pressed sheet mould compound (SMC) at 150 ℃ and 100 Kg pressure per cm2 produce a uniform panel of solid homogenous construction.
*Average serviceable life for panels in normal conditions without maintenance is 40 years.
*Tested for heavy impact, weather, loads, settling and earth quakes.
*Safety factor of 8 x above maximum anticipated load.
*Excellent ultra violet (UV) resistant characteristics and performance.
*Option of pre-insulated panels to avoid the risk of freezing.
*Hygienic for storage of drinking water
Adaptability
*Flexible sizes and shapes by design could range from 1 m3 to 4,000 m3.
*Can easily be extended at any time as storage requirements increase.
*Can be relocated easily from one location to another several time.
*Limited to 4.00 m in height
Corrosion resistant and Anti-rusted
The tanks are adapted to prevent the growth of algae and bacteria and also keep away dirt and insects. They will, therefore, ensure a clean and constant water supply.
Non-leakage
*Exclusive design of convex bottom panels with flexible rubber sealant is most effective against the risk of leakage.
*Modular panel with low thermal coefficient and flexible rubber sealant ensures a leak-free design.
Physical Properties
*Exceptional panel strength in compression, High Tensile strength, torsion (Rigidity)
*Panels individually designed for optimal performance with a safety factor of 8.
*Long life UV protection, U.V. Resistance and Algae resistance.
*Low thermal conductivity.
Water Quality
*Smooth mirror surface of the panel prevent dirt adhesion and bacterial growth.
*Light proof to prevent algae growth. Light transmittance for panels including manhole cover is 0,00%.
*The hot pressing method for panels eliminates styrene and makes it an ideal product for storing drinking water.
*Tanks are completely sealed, manhole covers and air vents are by design dust and insect proof.
Easy to Assembly & Maintenance
*Despite its' great strength, GRP is lightweight – just 1/3 one third the weight of an equivalent steel panel. All panels can be lifted by hand, with no special equipment required even where access is difficult, and installation can progress quickly and efficiently.
GRP PANEL TYPE WATER STORAGE TANKS - SPECIFICATIONS
• Water tank size: 1 m³-4000 m³
• Panel size: 0.5*0.5m, 1*0.5m, 1*1m, 1.5*0.5m, 1.5*1 m, the panel thickness is depends on tank height.
• Connection type: Bolted Assembled.
• Foundation: Concrete foundation and U-steel bottom base
Panel material: GRP, stainless steel,Q235 steel and enameled
GRP PANEL TYPE WATER STORAGE TANKS - TECHNICAL DATA
Panel Material Characteristics
DESCRIPTION
GRP
Specific Gravity
1.8
Glass content
More than 30%
Tensile strength
1,020kgf/cm² (9.996KN/cm²)
Young's modulus
1.40x105 kgf/cm² (13.7Gpa)
Flexural strength
1,650 kgf/cm² (16.17 KN/ cm²)
Impact strength
52.5 kgf/cm² (0.515KN/ cm²)
Compressive strength
3,010 kgf/cm² (29.50 KN/ cm²)
Shear strength
960 kgf/cm² (9.41 KN/ cm²)
Thermal expansion
2.16x10-5/ºC
Thermal conductivity (single panel)
(insulated panel)
0.15 Kcal/m hrºC (630 J/ m hrºC)
0.02 Kcal/m hrºC (84 J/ m hrºC)
Coef. of overall heat transmission
(single panel)
(insulated panel)
5.0 Kcal/m hrºC (21 KJ/ m hrºC)
1.0 Kcal/m hrºC (42 KJ/ m hrºC)
Water absorption
Less than 0.2%
Cavity
Less than 2%
Light transmittance (grey panels)
0.00%
GRP PANEL TYPE WATER STORAGE TANKS - TANK INSTALLATION ASSEMBLY
Step 1. Install U-steel bottom base on leveled concrete foundations.
Step 2. Align GRP panels to be pre-assembled.
Step 3. Place rubber sealant from ready-to-use roll between panels..
Step 4. Connect panels with bolts and nuts.
Step 5. Position bottom panel sections, and finish up base of tank.
Step 6. Position three sides of the tank.
Step 7. Position and fix roof panels and if required, roof support pipes and plates.
Step 8. Install reinforcement if required.
Step 9. Close up the tank with the fourth side.
Step 10. Finish the internal or external reinforcement.
Step 11. Fill and test.
GRP PANEL TYPE WATER STORAGE TANKS - PICTURE GALLERY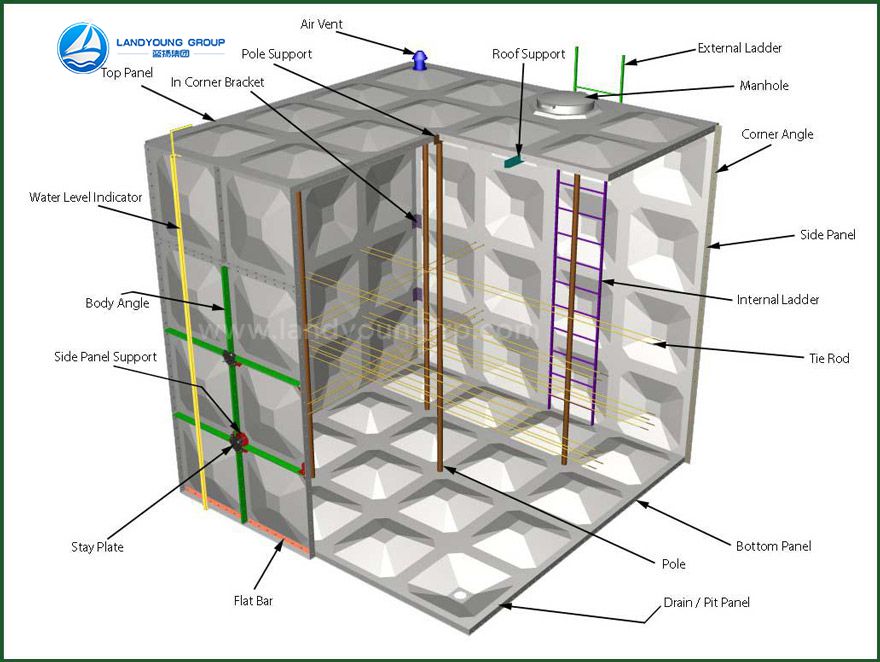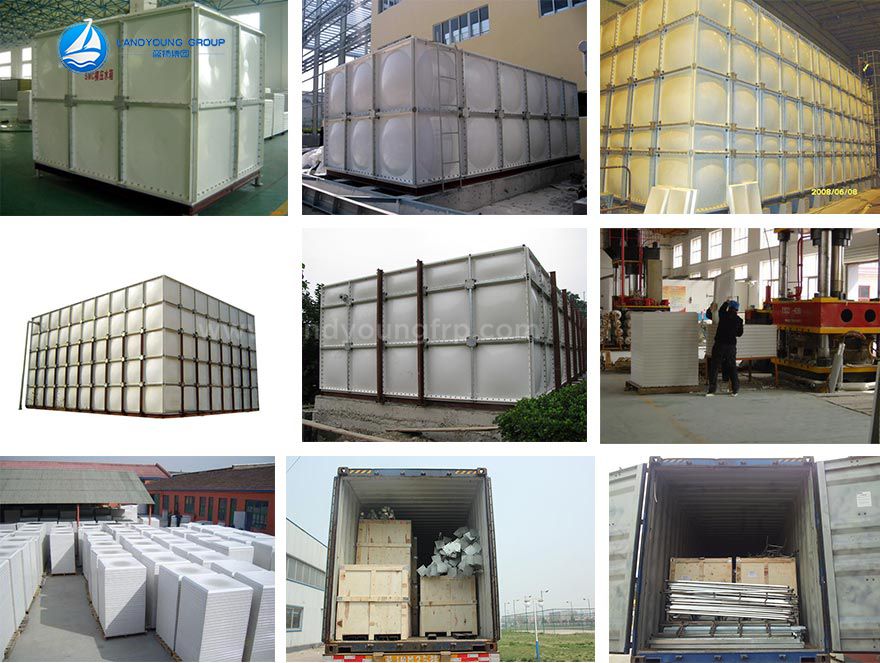 LANDYOUNG
Because we are a GRP and FRP panel water tank supplier manufacturer, we offer 10m3, 20m3, 50m3, 100m3, 200m3, 300m3, and even 4000 m³. We also offer you a wide range of FRP water tank sizes, such as 1000 liter grp water tank, 3000-liter grp water tank, 2500 gallon grp sectional water tank, 2500 gallon rainwater storage tank, 2500 gallon groundwater storage tank, 5000 gallon water tank, 10000 gallon grp water tank, 100000-gallon water tank, 1500000-gallon water tank, 2500000-gallon water tank.
We offer a selection of quality GRP water storage tanks. By using modern machinery and technology, we manufacture these GRP water storage tanks as per the industry load specifications. Their robust construction and resistance to leakage make these GRP water storage tanks highly demanded in the market.
You can contact us directly via email or phone to order. We have many sizes of products (such as different quantities of FRP water tanks, FRP sectional water tanks or FRP panel water tanks, and panel water storage tanks)
Our grp water tanks have a Complete quality management system and comprehensive products test reports and certifications. regions in Europe, Southeast Asia, South Asia, the Middle East, South America, Africa, etc. and are committed to continue to provide the same services to our potential customers. If required, contact us!