FRP Biological Deodorization Equipment
LANDYOUNG FRP biological deodorization equipment adopts effective biological reaction environment control technology.
LANDYOUNG FRP biological deodorization equipment adopts effective biological reaction environment control technology. The standard filter tank body is made of FRP, which is a closed structure, which effectively ensures the stability of the working environment temperature of microorganisms; it is equipped with a heating system for cold areas; There is a spray system to spray the biological filler to ensure the humidity of the biological filler; proprietary filler anti-acidification technology. Compact structure and flexible form The standard structure adopts an integrated and modular design, and the structure is compact; the structure can be adjusted according to the occupied area and environment, such as buried, split, multi-layer, etc., flexible and changeable; The material of the equipment can be customized according to user requirements.
Application
FRP biological deodorization equipment is used for odor (Mainly NH3, H2S)control in municipal sewage treatment plants, sewage pumping stations, garbage treatment plants (stations), petroleum and petrochemical, pharmaceutical and chemical, food processing, spraying, printing, textile printing and dyeing, leather processing and other production industries. After being collected by the air duct, it is pumped to the deodorizing equipment for treatment. The deodorizing equipment neutralizes the odor and the removal efficiency is more than 95%, and the clean gas is sent to the atmosphere to meet environmental protection standards.
Advantages and features
1. Fully automatic control, stable performance, no need for special operation;
2. Using long-lasting biological fillers, microorganisms can grow on the nutrients in the washing liquid and the malodorous substances in the gas, without the need for additional nutrients. The biofilm has stable ecological conditions, large biomass per unit volume, high biosorption and biooxidation capabilities of the microbial flora, strong impact resistance, fast decomposition of malodorous substances, and high efficiency;
3. The tower body adopts a modular structure and the main body of the deodorizing treatment equipment adopts a glass fiber reinforced plastic (FRP) structure, which has superior anti-corrosion performance and strong integrity, which is convenient for transportation and installation; only need to add components when increasing the treatment capacity, which is easy to implement; it is also convenient for separate treatment under the condition of dispersed gas source
4. Unique gas distribution method, uniform distribution, purification efficiency as high as 95% or more.
Process flow
Malodorous gas collection device→biological filter device→exhaust fan→discharge up to standard↕
Filter → regular discharge of filter residue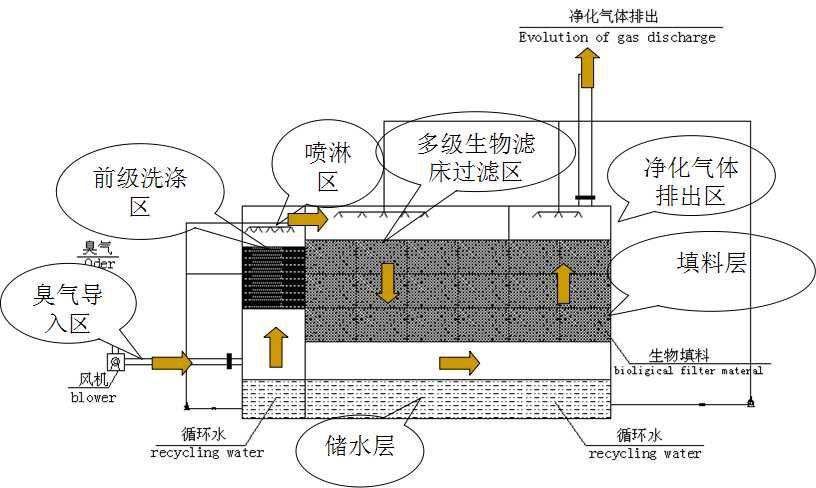 Specification
FRP biological deodorization equipment can be designed and customized according to user requirements.