Hot Dip Galvanized Water Tank - DESCRIPTION
Hot dip galvanized water tank is abbreviated as HDG water tank, as well as the surface is coated with a 90-micron-thick Q235 pressed steel zinc finishing. Zinc covering can aid stop corrosion and also deterioration for at the very least ten years, is an economical liquid storage method, mainly used to store oil and natural gas, fire fighting water, industrial liquids, drinking water and wastewater applications.
Hot dip galvanized water tanks has the most types of panels, consisting of 1000 x 1000 mm, 1000 x 500 mm, 500 x 500 mm, 1220 x 1220 mm. As a result, the HDG water tank is much more flexible and economical. At the same time, the strong steel framework as well as zinc finishing defense make it functional as a below ground water container.


Hot Dip Galvanized Water Tank - APPLICATIONS
As the storage equipment for drinking water, oil and gas, industrial liquids, wastewater, reclaimed water and fire water,hot dip galvanized steel water tanks are widely used in mining, residential buildings, hotels, office buildings, schools, restaurants and other public facilities. It is also suitable for building water storage, regulating water tanks, inflatable water tanks, condensate water tanks for heating systems, and temporary water storage tanks for construction, geological prospecting, industry, and national defense projects. The tank volume has 24 specifications for design selection. Engineers can also design according to the length, width, and height of the water tank, and then assemble it in the factory.
Specific Applications
Residential or commercial potable water storage: Homes and businesses need to provide potable water for their family members or occupants. grp water tanks can be made in sizes and capacities to fit any of these locations, so it's a smart choice.
Rainwater collection and storage: For dry areas with low water supply or rainfall the ability to store large amounts of water during the rainy season can be a godsend. It can also be used if you just want to stay off the grid.
Agricultural water tanks: During the long and unpredictable dry season, many growers are turning to water storage tanks to help offset these droughts.
Storage of hazardous materials or waste: For businesses and enterprises that generate hazardous waste as a by-product.
Libraries, schools, colleges, universities, hospitals, construction sites and industrial buildings: Important for these sites that are fire hazards (chemical and fuel plants, paper storage, etc.) or because their primary operations require large amounts of water (construction sites, water parks, swimming pools, golf courses, concrete mixing for car washes), agriculture and ranching, etc.).
Hot Dip Galvanized Water Tank - ADVANTAGES
● Corrosion resistance, compared with other material water tanks, the service life is the longest
● Drinkability, can be used for household water storage to solve daily water storage problems.
● Smooth and beautiful surface, easy to clean
● High impact resistance, strong seismic performance, is the best tensile strength and yield strength material.
● With reliable quality and high temperature resistance, it is the best choice for rainwater projects in Africa, especially when the outdoor temperature exceeds 40 degrees.
● Easy to install, use the bolts provided by us to assemble, so that the installation is very easy, and will not leak.
● Space saving, galvanized steel water tank is assembled by panels, saving space and convenient for transportation.
Hot Dip Galvanized Water Tank - PROPERTIES
| | | |
| --- | --- | --- |
| Physical properties | Standard requirement | Result |
| Tensile strength | ≥350 MPa | 509 MPa |
| Yield strength | ≥220 MPa | 414 MPa |
| Elongation | ≥23% | 24% |
Hot Dip Galvanized Water Tank - SPECIFICATIONS
The hot dip galvanized water tanks we provide to you is a quadrangular square plate, which is tightened with bolts, one by one with nuts and washers, assembled at the bottom, and the surrounding and roof is a complete and cubic water storage tank.
● Water tank size:
0.5m³-3000 m³
● Panel material:
Q235 steel and hot dip galvanized
● Panel size:
0.5*0.5m, 1*0.5m, 1*1m, 1.22*1.22m, the panel thickness is depends on tank height.
● Connection type:
Bolted Assembled.
● Foundation:
Concrete foundation and U-steel bottom base.
● Water tank insulation:
Various water tanks can be used as insulation layer to cope with extreme temperatures.
● Water tanks of different heights use different bottom,
Side and top plates in strict accordance with the assembly principle.
● Assembly principle:
Reasonable saving of materials, ensuring safety and efficiency, and a service life of more than 50 years.
Hot Dip Galvanized Water Tank - INSTALLATION
● According to stainless steel water tank capacity, our engineer will provide detailed drawing for your reference.
● Customers need to provide concrete base according to our drawing.
● Our water tank quotation includes all panels and accessories, like C-channel base, some spare parts.
● We will provide installation manual.
Step-by-step assembly:
Step 1. Install steel footings on a flat concrete foundation.
Step 2. Align the galvanized steel sheets to be pre-assembled.
Step 3. Put the rubber sealant from the ready-to-use roll between the panels.
Step 4. Connect the panels with bolts and nuts.
Step 5. Position the bottom panel part and complete the bottom of the water tank.
Step 6. Locate the three sides of the water tank.
Step 7: Position and fix the roof slab, and if necessary, install roof support pipes and slabs.
Step 8: If necessary, install rebar.
Step 9: Use the fourth side to close the water tank.
Step 10. Complete internal or external reinforcement.
Step 11. Fill and test.
Hot Dip Galvanized Water Tank - MANUFACTURER
LANDYOUNG GROUP is China's leading new material developer and supplier, with advanced automated production equipment, strong technical capabilities, scientific process, complete quality inspection system, high-quality raw materials, and strict quality control.
As a HDG water tank manufacturer, our The hot dip galvanized steel water tank is using advanced technology and high quality Q235 steel plate, stamped into 1.22*1.22m, 1*1m, 1*0.5m and 0.5*0.5m standard panel, the The periphery is drilled, hot dip galvanized water tank, and assembled on site by bolt connection, the panel thickness is depends on tank height. The maximum height is 4 meters. Contact us!
Some cooperative project applications of hot dip galvanized steel water tanks of LANDYOUNG GROUP
● Fire water storage tank: as a water tank for fire fighting water. The pipelines and flanges of the inlet and electrical outlet ought to match the instructions and placement of the water tank to ensure timely water system.
● Rain tank: Built on the mountain, it gathers rain from one container to one more. Arrive at the domestic area. Even on the mountain. Steel towers as well as braces are also required. If the steel tower is smaller sized than 6 meters, a small water tank of 20 lots. Easy as well as hassle-free tower assistance suffices. If the height surpasses 6 meters, the bring capacity is huge. Full illustration as well as gravity computation are needed.

● Watering water container: It is really comparable to water storage tank, other than that it is built on the level, and also the level of the concrete base ought to be really level. The U-shaped groove base will be welded to the corner of the tank panel. The electrical outlet pipeline flange needs DN150 or less.
● The installment of septic systems fulfills the demands of consumers looking for alternative sewage-disposal tanks, not septic tanks made of concrete, yet a lot more durable than plastic sewage-disposal tanks. It is suitable for a wide range of users from family usage to huge business. Such as food, clinical, textile, chemical, electric power, metallurgy, equipment, oil, building, and so on.
Hot dip galvanized water tank for fire fighting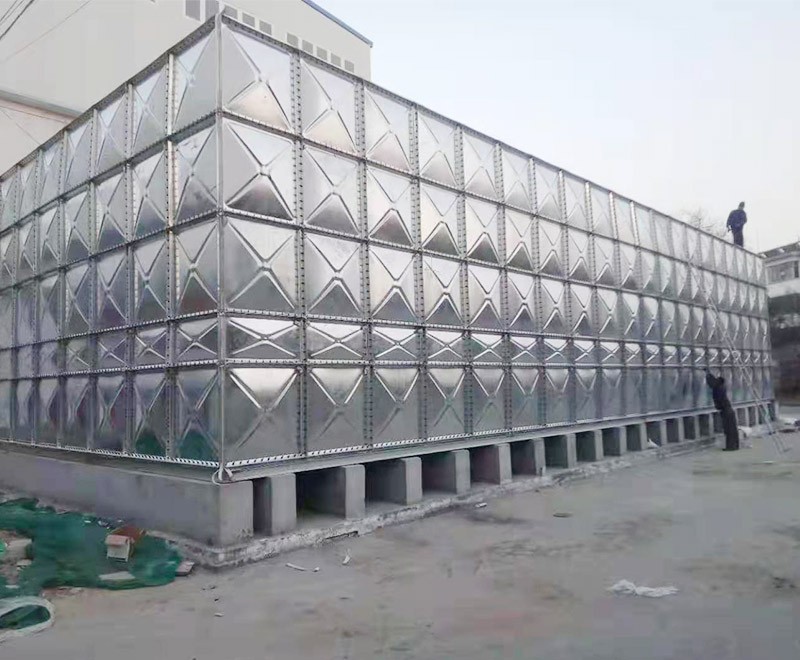 Hot dip galvanized water tank for rainwater collection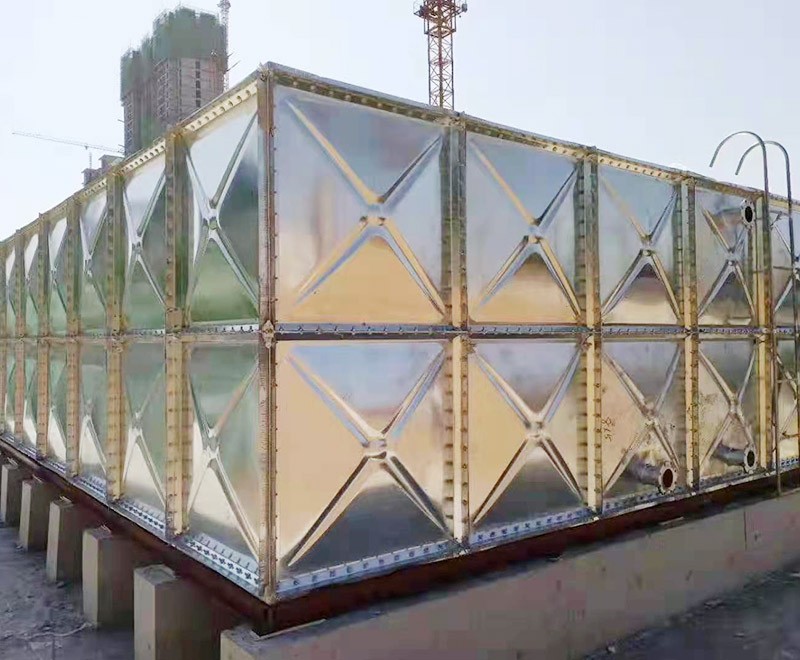 Hot dip galvanized water tank for irrigation