Glass fibre-reinforced plastic grating is made from a composite mixture of resin and glass fibre. The reason behind the overuse of fibreglass grating in the industry is its numerous benefits. The most important property is its non-corrosive nature, which makes FRP or fibreglass grating very valuable to industrial customers. As such, individuals use them in hazardous and corrosive environments. By using fibreglass moulded gratings, maintenance costs are easily reduced.
Individuals can install FRP gratings using basic tools. They are easy to install and require less labour. In addition, there is no requirement to weld these grilles during installation. You do not need to clean it every time or paint it frequently. Fibreglass gratings do not require any maintenance or special care. Unlike steel gratings, they are extremely lightweight. FRP/GRP fibreglass grilles are more economical than steel or aluminium grilles.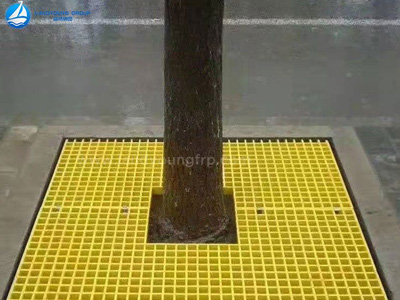 FRP Grating
The non-corrosive and non-conductive properties make fibreglass grating more useful and best suited to harsh weather conditions. The power industry and the chemical industry can use these gratings in their unit premises. These gratings are also non-slip to prevent any accidents while walking. There is no risk of dropping or slipping on the fibreglass grating.
These are walkable and durable products manufactured from quality raw materials. Manufacturers are manufacturing a wide range of fibreglass gratings and putting them on the market for customers to use.
Where is FRP grating used?
FRP grating is often found in hazardous or harsh environments where it may be subject to the elements or exposed to dangerous and corrosive chemicals. The following are a few examples of situations where FRP grating is used.
FRP grating is widely used for pavements, trench covers, stairs, decking and flooring. FRP moulded grating is used in the chemical industry where there is high usage of oil and chemicals. It is an industrial product and can be obtained from manufacturers at low prices.FRP pultruded grating is widely used in offshore drilling platforms, power plants, the oil and gas industry and in various building structures.FRP heavy duty grating is used in water treatment plants, the food industry, chemical plants etc.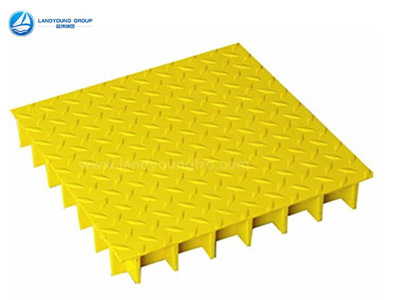 FRP Grating
Benefits of FRP Grating
High corrosion resistance
FRP grating lasts several times longer than steel or galvanised steel grating. In highly corrosive applications, metal products usually deteriorate within a few years, whereas FRP grating panels have a much longer service life, often in excess of 25 years. In fact, the resistance of FRP grating to highly corrosive substances such as seawater makes it one of the very few structures that can be used in marine installations.
High strength, light weight
FRP grating systems offer the strength of steel and weigh only ¼ of steel.
Easy to install
Due to its light weight and simple construction, FRP grating does not require heavy machinery for installation and can be easily assembled with very few people.
Easy to maintain
The durability and corrosion resistance of FRP grating means that there is virtually no maintenance after installation, saving you money year after year!
Slip and wear resistant
Slips and falls are the second leading cause of industrial accidents. While steel can become slippery when it is oiled or wet, FRP grating remains safe even when wet.
Flame retardants
Because its structural glass fibres are manufactured using flame retardant phenolic resins, FRP grating can withstand prolonged direct exposure to fire without compromising its primary structural integrity.
Versatile
FRP grating systems are used to construct raised green roofs, synthetic turf roof decks, raised stone decks, timber boardwalks and other commercial access points such as jetties and breakwater decks.
For more information about LANDYOUNG's FRP grating, welcome to contact us at +86 133 2318 2255 or write to us at sales@landyounggroup.com. We will be happy to help you out!